Getting out of Houston can be an experience. Since a part of the point of having a retreat is to get away from it all, on Friday evening, the only thing on the agenda is rest and relaxation. Once you check in and receive your room assignment, the magic begins!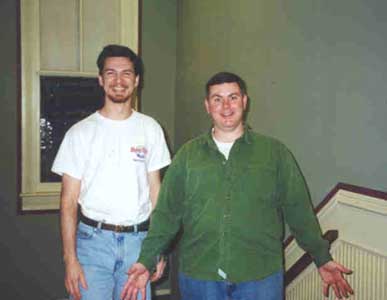 Paul Gray and Joseph Shaw are among the last to arrive in Brenham!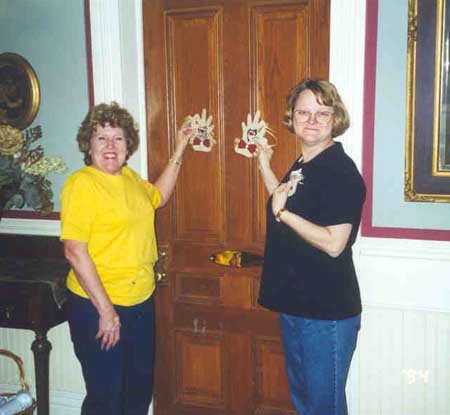 Patsy Jewell and Carole Sattler establish residency for the weekend by placing their
handmade door tags on their lottery-drawn room. Drawing for rooms (and roommates)
is a part of the adventure. The proprietors of the Ant Street Inn have decorated and
furnished each room with antiques and other objects that have been gathered from old
cities throughout the American South. For example, there are the New Orleans, Mobile,
and Savannah rooms, among many others.

To start the weekend off right, there is a wine and cheese reception Friday evening. You've already drawn your room assignment for the weekend, discovered that the Lace Escape fairies have left presents on your bed, just for you, and now it's time to meet, renew friendships with, and enjoy the company of your fellow lacers!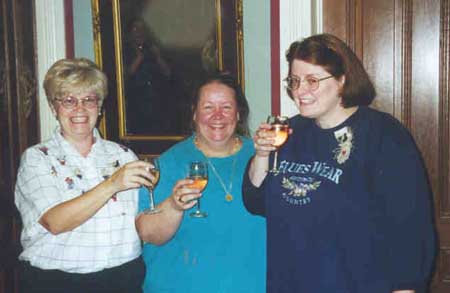 Chris Apple, Judy Aycock, and Jan Armentrout toast the start of the Retreat.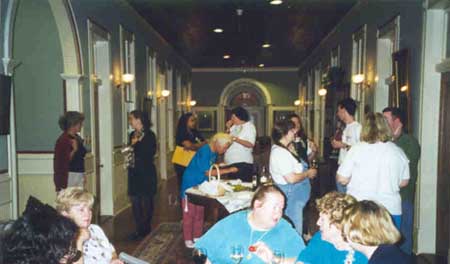 Lacers mingle in the upstairs hallway of the Ant Street Inn. There are several sitting
areas and plenty of room to admire the antique-style architecture. Visit the Ant Street
Inn's website to learn more about the fascinating story behind the revamping of this
old office building in downtown Brenham!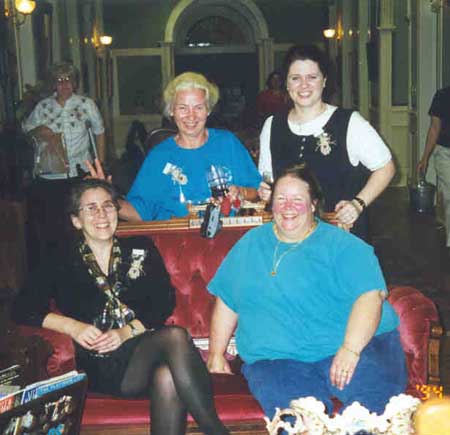 Elizabeth Munkvold, Gerda Wrede, Judy Aycock, and Merrily Calhoun enjoy
conversation, wine, and the atmosphere.

Next> Breakfast!