Judy undertook a major project when her daughter, Sharon Tamplain, got married. She made the bouquet completely from lace flowers! It is truly a masterpiece of lacework. It's unfortunate that the pictures do not do the bouquet justice.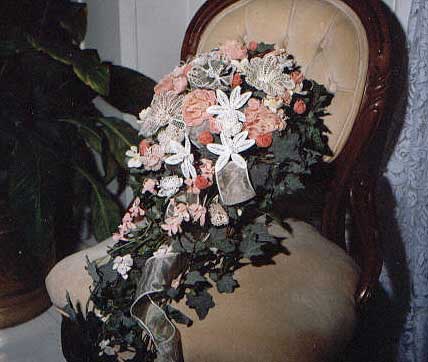 Judy also made this corsage for her son's fiancee during Spring 2000 for Prom Season. For those of you outside of the USA, every May and June, as the school year comes to a close, high schools across the country celebrate their Senior Prom, a last formal celebration and dance for the impending graduates. Judy used her floral talents to put this beautiful piece together.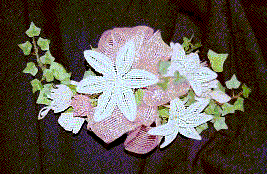 Keeping a family tradition alive, Judy made her new daughter-in-law's bouquet of lace flowers! Kinda makes you want her for your mother-in-law, doesn't it?